About Our Company
We, G K Min Met Alloys Co. are an ISO 9001:2015, CE & GMP certified manufacturer and exporter which started its journey with an objective to cater to various segments like wielding rods, diamond tools, carbide cutting tools & wear plate industries to name a few. Our offered line consists of Pure Metal Powder like Chromium Metal Powder, Moly Metal Powder, Nickel Metal Powder, Electrolytic Copper Powder, Electrolytic Manganese Metal Powder & Various Ferro Alloys Powder like High Carbon Ferro Chrome Powder, Ferro Boron Powder, Ferro Tungsten Powder, Ferro Molybdenum Powder to name a few. We specialize in powder manufacturing and have technical experience which we have gained through our experience in this industry in manufacturing Ferro Alloys & Metal Powder in varied forms. Our manufacturing unit is based at Por, District Vadodara with a production capacity of about 4500 Metric Tons per year with a scope of increasing the production capacity to about 8000 TPA. We have a dedicated & experienced work force to back our quality by using best quality imported raw materials with industry best quality measures adopted. All our products are tested & certified either at the time of import by the likes of SGS or equivalent or are tested in NABL accredited labs like GEO Chem Laboratories (P) Ltd or NML to name a few.

Why Us?
We provide high quality material as per the customer requirement from (-) 10 mesh to (-) 400 mesh fine powder for Ferro alloys & metal powder. Some of our products are also made in the range of 2.5-7.5 Microns.
Many of the metals that are not made in India with typical grades as required by specific industry requirements are imported by us from leading producers worldwide with industry best quality control which is supported by independent third party inspections done from the likes of SGS, Contecna to name a few.
We can also enter into periodic price & quantity specific contracts thereby saving both cost & time at both ends
The entire production is looked after our expert technical team & random samples are periodically tested to ensure continues quality maintained
We serve our customers with custom packing requirements & we support door step delivery of our material wherever possible.

Vision and Mission
Our aim is to make available high in class solutions at market leading prices. We are on a mission to supply the best quality materials with world class services to our customers in national and international markets. We strive to outdo ourselves & set new benchmarks in our industry.

Quality Assurance
Engrossment of Quality Confirmation at every phase as an integral practice to guarantee quality.
In-built balances and checks confirm effective controls
Some special highlight of bal QA frame are mentioned below:
Proven and right technology
Appropriate equipment
Ideal sources
Appropriate production process
Suitable Systems
Production quality
Intact field quality in both finish product and raw material
Ideal Practices
Process and product quality
Quality standards and assurance
Quality control and planning
Feedback system
Quality Audits of process and production
ISO 9001:2015, Iso 55001:2014, ISO 14001:2015, ISO 50001:2011, and OHSAS 18001:2007 certified
Well organized vendor evaluation system
Standardization

ISO CERTIFICATION
The international approval of ISO 9001 may be inferable to many factors. Besides, numerous purchasers need their suppliers to have ISO 9001 certification.
Plants have acquired ISO 55001:2014 (AMS), ISO 9001:2015 (QMS), ISO 50001:2011 (EnMS), ISO 14001:2015 (EMS), and OHSAS 18001:2007 certifications.

ISO Certifications :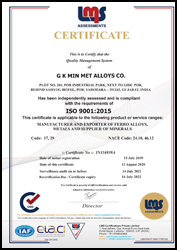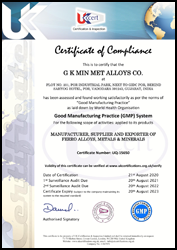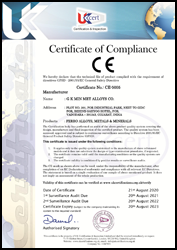 Read More